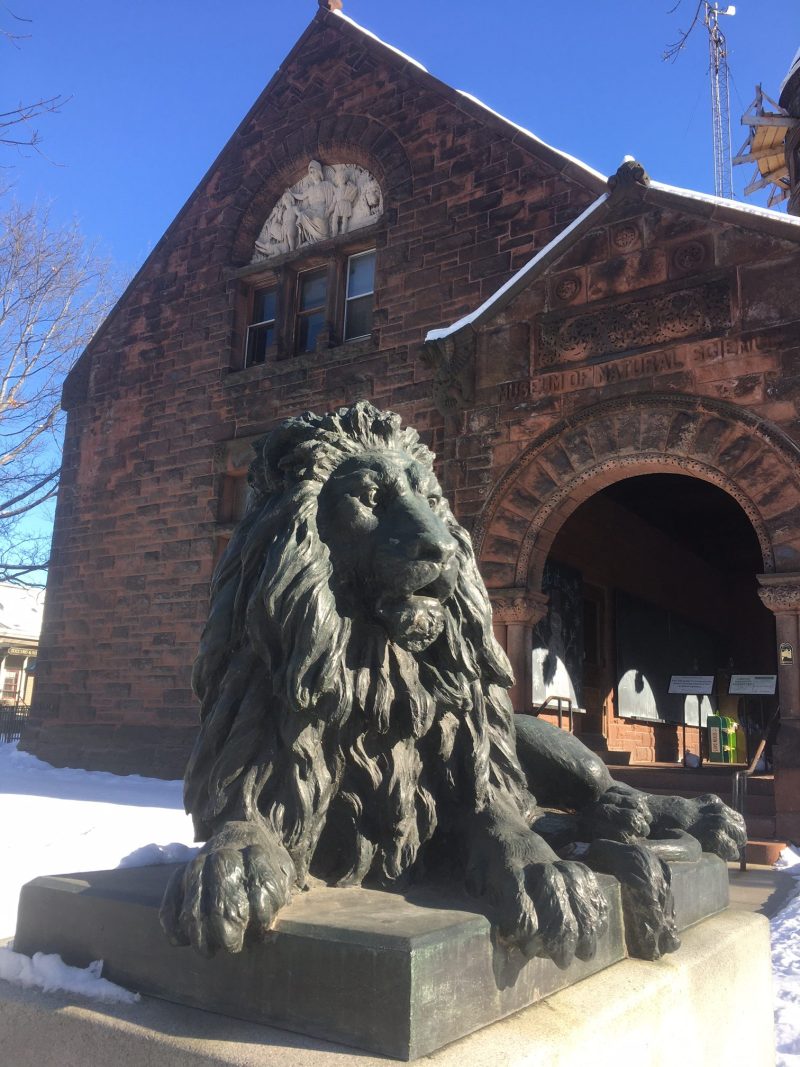 2022 Impact Report – Past, Present & Future
2022 embraced our history as we envisioned an expansive future. Years of planning, fundraising, and imagining converged on a rainy day in May. Under a bright tent, a crowd cheered the ground-breaking for our Tang Science Annex while restoration crews prepared to tend the historic structure. Both projects are fundamental to the Museum today: the spirit of Franklin and Frances Fairbanks remains a through-line, informing our exhibits and programs and laying a solid foundation for expansion to reach new audiences. 2022 brought it all together.
While our focus stretches both to our roots and toward what's ahead, our exhibits, events, and services reflect a dynamic approach to natural science education, inspiring wonder and curiosity about our world.
The elements have taken their toll on our 130-year-old building, and we have every intention to remain a landmark attraction for at least another century. With the goal of reinforcing and restoring the Museum's iconic building, we embarked on extensive cleaning and restoration of the Longmeadow sandstone exterior. Both towers needed to be reinforced, and the masonry walls needed repointing. Slate roof tiles had worn out and needed to be replaced, as well as flashing around the towers. We took this opportunity to reinforce the drainage around the Museum, creating new opportunities to use existing space for education. Restoration allowed us to appreciate fully the beauty and design of our main building.
In June, excavation began for the first addition to this museum since 1895, when a new wing was constructed at the Museum's southern side. The Tang Science Annex lays a new foundation for learning that extends the original vision of our Museum of Natural Science. This project includes a 3-stop elevator that will bring people to areas that have been out-of-reach to anyone with mobility limitations. The new structure will engage new generations of science learners in the Fred Mold Hall of Science, where hands-on displays delve into the forces at play in meteorology and astronomy. And a new Stockman Family Gallery will showcase our Flower Table, creating a lasting link with one of the Museum's earliest displays, established by Frances Fairbanks.
We can't wait to celebrate what's ahead with you when the Tang Science Annex opens in 2023.
Paige Crosby, Chair, Board of Trustees
Adam Kane, Executive Director
2022 by the Numbers
You're the reason we do what we do.
Each visitor, every member is important. Here are a few of the numbers that inspire us:
13 Franklin's Guides
interpreted exhibits and practiced presentations skills with guidance from Museum educators.
29 pre-school children from 21 families gathered for Nature Buddies playgroup sessions.
30 early childhood educators gained experience with outdoor education through our Nature's Classroom training.
67 students accessed the sate-of-the-art resources in our STEM Lab.
74 schools engaged with our education team for enrichment and curriculum-based classes.
81 campers ages 4 – 8 explored the outdoors during 6 weeks of Discovery Camps.
370 Homeschoolers took part in weekly lessons and gallery activities.
1,013 Museum members enjoyed programs and exhibits throughout the year.
9,908 guests journeyed through time and space in our planetarium.
15,196 visitors toured our galleries.
Highlights from the year reflect the past and future.
During a year filled with construction plans, our exhibits and programs featured exploration and innovation.
We opened 2022 by celebrating our Mass Timber Exhibit, sponsored by the Softwood Lumber Board and the U.S. Department of Agriculture. This unique installation highlights the material used in our Tang Science Annex, which will be Vermont's demonstration mass timber building and the first building in the world to use eastern hemlock cross-laminated timber. Due to their strength, ease of assembly and environmental characteristics, mass timber building products have the potential to become the materials of choice for a wide range of construction projects.
A new Conte Corner was added to our Exploration Station. This interactive series of displays invites visitors to step into the wild and experience the Boreal Forest as preserved by the Silvio O. Conte National Fish and Wildlife Refuge at the Nulhegan Basin.
The Caterpillar Lab was in residency in June, transforming our classroom with up-close images and detailed introductions to over 30 species from our region. This rare residency included a functioning caterpillar rearing, researching, photographing, filming and educational space for visitors and our educators to explore.
Our Shippee Family Eye Care Butterfly House was home to native butterflies and moths through the summer. The immersive experience also includes flowering plants that host and feed every stage of these amazing insects, from eggs through metamorphosis.
The William Eddy Lecture Series hosted an in-progress exploration of the underlying design, vision, and challenges to constructing Vermont's demonstration mass timber building. Vermont Integrated Architecture led a behind-the-scenes presentation that started with a tour of the construction site followed by an outdoor presentation.
We closed out 2022 with the gift of 500+ acres in Danville, Vermont by John and Barbara Matsinger. In the coming years, the Fairbanks Museum Nature Preserve at Matsinger Forest will be the outdoor compliment to the existing museum.