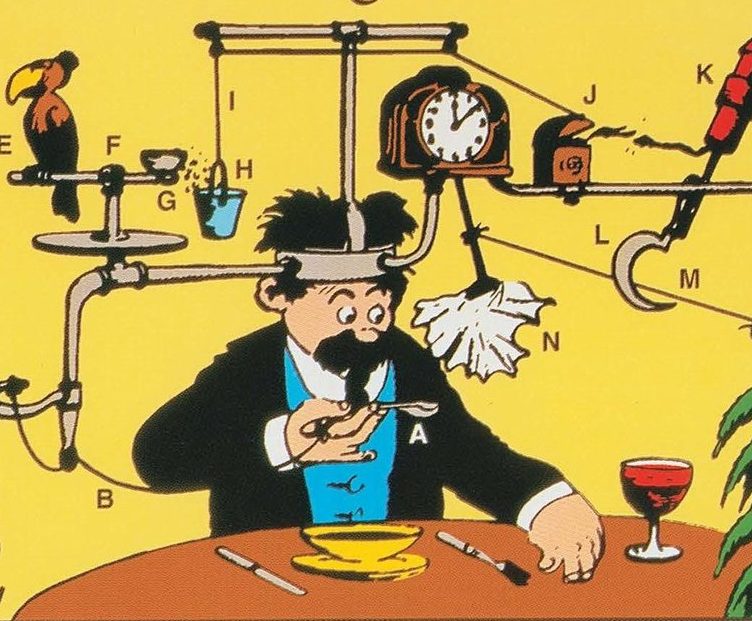 Learning for Life
Natural science public programs
Build It! Workshops
We had so much fun last month with Zach Umperovitch, the world's leading authority on building Rube Goldberg contraptions, that we invited him to come back!
You'll get to create your own multi-step machine, inspired by the quirky contraptions in Rube Goldberg's drawings. These chain-reaction contraptions accomplish a simple task with many steps and lots of humor along the way. Each workshop offers a fun way to rethink how to get things done!
Space is limited, and registration is required.
Saturday, June 24
9:00 – 11:00 AM Build It! workshop for ages 6 – 7
members: $15/child, nonmembers $20/child
4:00 – 7:00 PM Build It! workshop for adults
members: $25/person, nonmembers: $30/person (refreshments provided)
Sunday, June 25
9:00 AM – 12:00 PM Build it! workshop for ages 8 – 11
members: $25/child, nonmembers: $30/child for non-members
1:00 – 4:00 PM Build it! workshop for ages 12 – 16
members: $25/child, nonmembers: $30/child
Summer Astronomy
Sunday, June 25, 5:30 PM
in the Lyman Spitzer Jr. Planetarium
John Perry, Ph.D.
Are We in a Hologram?
Some physicists believe our universe may be a holographic projection. Dr. Perry will show several large, animated holograms in our Lyman Spitzer Jr. Planetarium to illustrate the reconstruction of a 4-D space and time reality from a 2-D surface. A smaller hologram and laser will demonstrate the process of 'real image' projection. 
The Holographic Universe concept will then be described, touching lightly on its roots in black hole, information and string theories.
John Perry is a senior lecturer in physics and astronomy at UVM, and was president of Holographics North in Burlington from its incorporation in 1984 until its closing in 2019. The company specialized in large format display work, with over 600 museum, commercial and fine art clients from 24 countries.
The Great American Eclipse
with Mark Breen, director of our Lyman Spitzer Jr. Planetarium
On April 8, 2024, a total solar eclipse will cover St. Johnsbury.
We'll be ready to experience this once-in-a-lifetime event with you!
Join Fairbanks Museum astronomy educators for a full day of activities, including a live program in our courtyard featuring Mark Breen and a Vermont Public radio host.
We can hardly wait!
New: We have solar viewing glasses! Thanks to Shippee Family Eye Care, you'll be able to see the eclipse and protect your eyes!