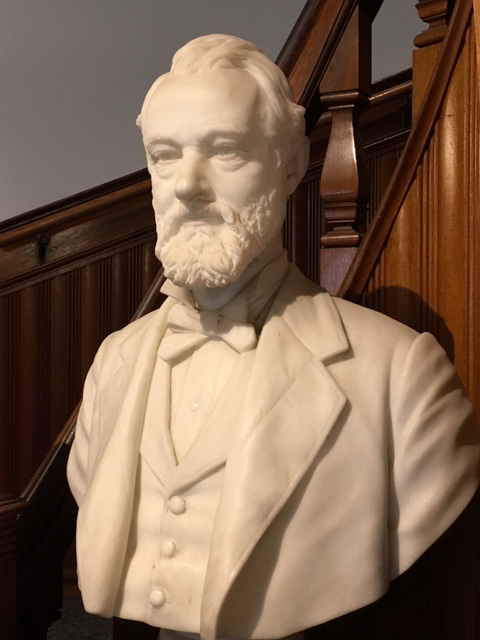 History
The Mission of the Fairbanks Museum & Planetarium is to inspire wonder, curiosity, and responsibility for the natural world.
The Fairbanks Museum was founded in 1889 by St. Johnsbury industrialist Franklin Fairbanks.
Inside our classic Victorian building, you'll find a dazzling array of animals and artifacts, gems and meteorites, shells and fossils, and much more! Take a trip through the cosmos in Vermont's only public planetarium. A full calendar of events, workshops, lectures and field programs invites everyone to explore the nature of our world.
When Franklin Fairbanks opened the doors to this Museum in St. Johnsbury, Vermont over a century ago, he invited all of New England to see beyond the horizon by bringing exquisite examples of natural science and beautiful artifacts from around the world to his home town. His "cabinet of curiosities" grew to include our National Historic Register building, a triumph of Victorian architecture, the cornerstone of St. Johnsbury's Victorian Main Street. Inside, our collections include:
natural science specimens (mounted birds, mammals, reptiles and fish; insects; nests and eggs; shells; fossils; rocks and minerals; herbarium)
historical artifacts (tools, toys, textiles, weapons, and archival photographs and documents)
ethnological items collected from Oceania, the Near East, Africa, Egypt, Japan and native North America during the Victorian era.
Our Lyman Spitzer Jr. Planetarium, Vermont's only public planetarium, opened in 1961 and continues to offer guided tours of the cosmos every day.
Since 1981, meteorologists at the Museum have produced Eye on the Sky weather programming that is broadcast daily on Vermont Public and regional radio stations.