Presenting Zach Umperovitch
April 28, 6:00 PM at United Community Church
(1325 Main Street, St. Johnsbury, VT)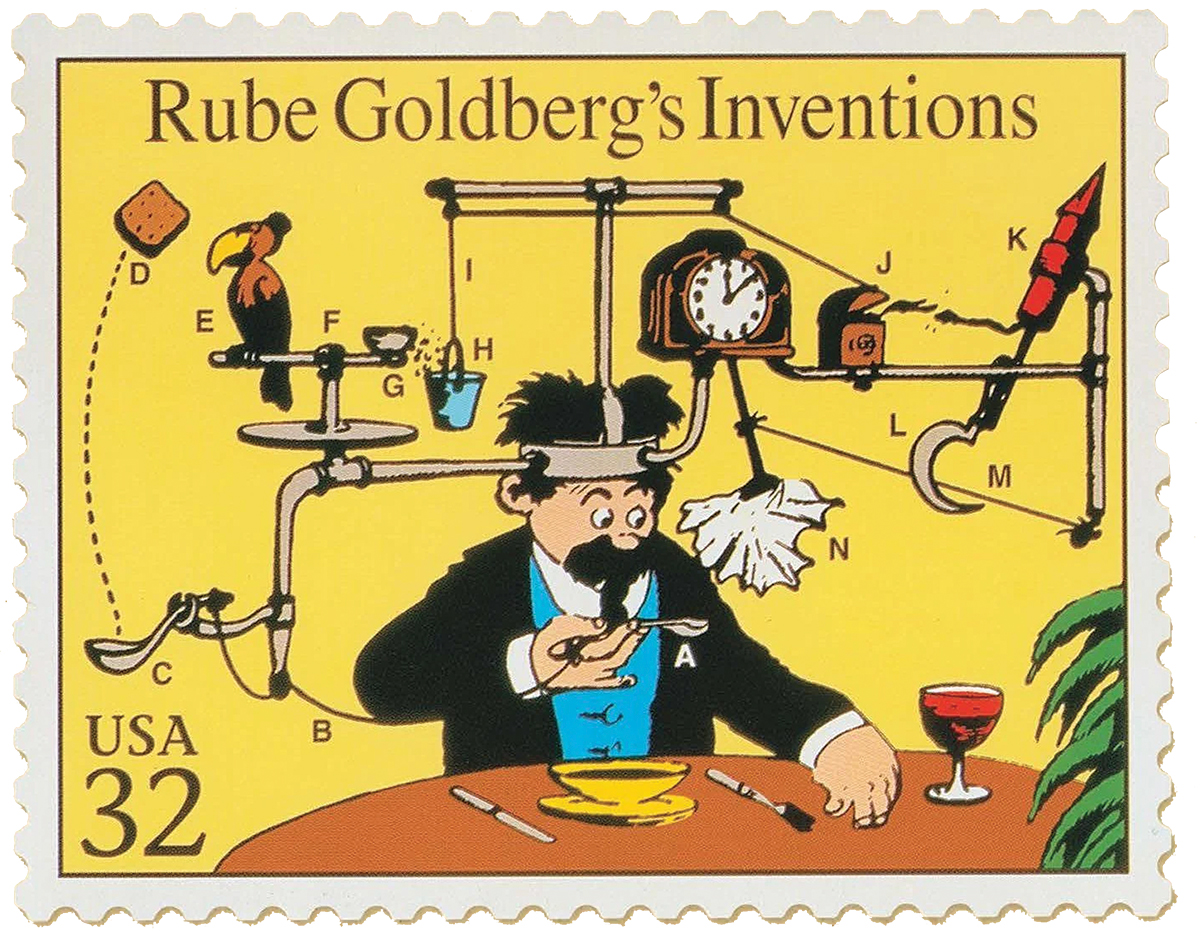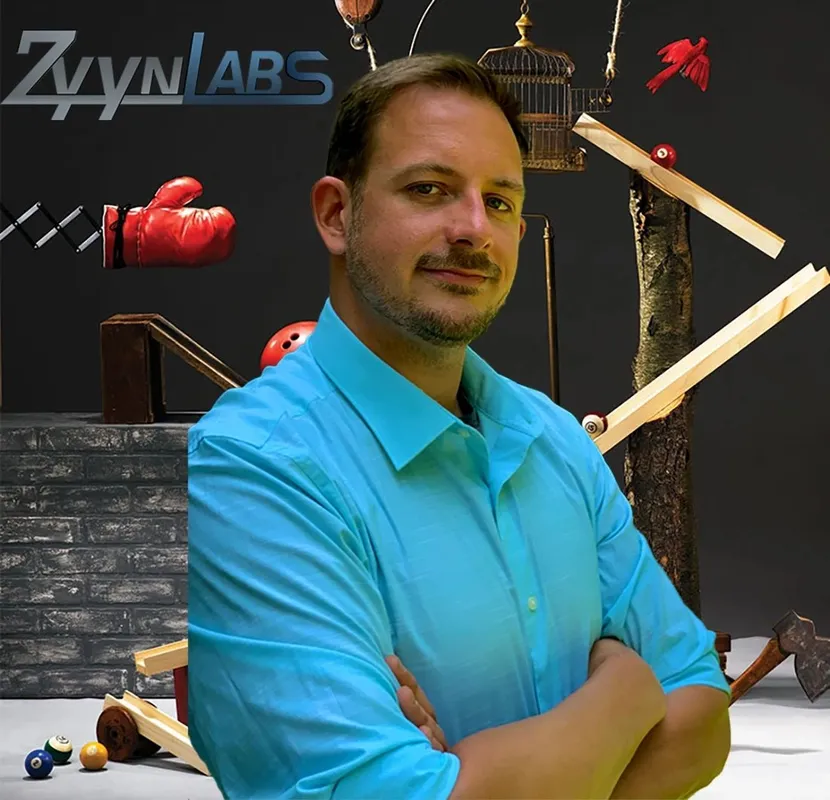 Zach Umperovitch is the world's leading authority on building machines inspired by Rube Goldberg designs. These intricately connected structures are all about transferring energy from one form to another in order to accomplish a simple task and spark some humor along the way. After building his unique machine for the Fairbanks Museum, Zach Umperovitch explains the genius of Rube Goldberg and the intricacies of his project. With images and video to illustrate his work, this tour of the physics that underpins the machine and the humor that guides his inspiration will be revealed. Once he's explained what's in place, Zach will set his contraption in motion!
Zach will begin planning and building his machine on Saturday, April 22, using materials from the Fairbanks Museum's vault – including some objects from Fred Mold's Hall of Science! He'll incorporate everyday objects in this one-of-a-kind machine to span the length of the main gallery. The installation continues through the week with items added daily. Visit while he builds to ask questions and offer suggestions and be part of the construction process.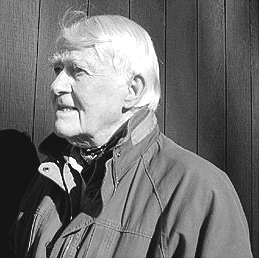 Bill Eddy taught in the Environmental Program at the University of Vermont from 1977 through 1998. Prior to that he held positions with the New York Zoological Society, the Conservation Foundation, and the African Wildlife Foundation. He made some 25 trips to East Africa where he began work in the early 60's as director of education for the Tanzania National Parks. There he developed one of the first public awareness programs in Africa devoted to the conservation of wildlife. Subsequently he was asked to develop similar programs for the national parks of Kenya and Uganda. Between 1982 and 1986 he worked with the Rendille tribe, a remote group of camel-raising nomads living in the northern desert of Kenya, to develop culturally appropriate ways to help them understand their own role in the spread of desert.
It was in the course of such work that he became interested in the role which language and culture play in shaping peoples' perception of their environment.  As a film maker he has produced several Swahili language documentaries on wildlife conservation which have been seen by literally millions of viewers throughout East Africa. His work with the International Division of the U.S. National Park Service has involved him in many projects covering a wide range of environmental concerns in India, Nepal, and Sri Lanka.  Peace Corps invited him to help them develop programs to increase environmental awareness and understanding in a number of African, Central American and Caribbean countries, and to design training programs for Peace Corps volunteers to help them to "see" their own environmental biases before they began working with other cultures.
William Eddy Lecture Speakers
Megan Nedzinski, of Vermont Integrated Architecture, and Adam Kane, Executive Director of the Fairbanks Museum, offered an in-progress tour of the Tang Science Annex with details about the design, materials, and construction process. (2022)
Dr. Leslie-Ann Dupigny-Giroux is the Vermont State Climatologist. She led a discussion about the impacts of climate change with Dr. Janel Hanrahan (Chair of Atmospheric Sciences at Northern Vermont University) and Dr. Ryan Rebozo (Director of Conservation Science at the Vermont Center for Ecostudies), moderated by Jane Lindholm, host of Vermont Edition and creator of the But Why? podcast on Vermont Public. (2020)
Ed Koren: Ed Koren is known for conveying visual satire through his distinctive illustrations, many of them published in The New Yorker magazine (2019)
Abdi Nor Iftin: Call Me American – author and interpreter reflects on the journey from war-torn Somalia to northern New England (2018)
Sonam Wangchuk, engineer and educational reform advocate, winner of the 2016 Rolex Award for Enterprise (2017)
"Allies & Invaders" – Lectures and guided field program with experts from Dartmouth College and regional forestry services (2017)
Billy Collins, former US Poet Laureate and best-selling author (2016)
John Abele, co-founder of Boston Scientific, "Search for the USS Grunion" (2016)
Elizabeth Kolbert, Pulitzer Prize winning journalist and author of The Sixth Extinction: An Unnatural History (2015)
David Macaulay, writer and illustrator of The Way Things Work (2014)
Calvin Trillin, writer and commentator (2014)
Dr. Geoffrey West, Distinguished Professor at the Sante Fe Institute (2013)
Nancy Abrams and Joel Primack, authors of The New Universe and the Human Future (2012)
Michael Specter, The New Yorker staff writer (2012)
Rob Mermin, founder of Circus Smirkus (2011)
Steve Curwood, host and executive producer of "Living on Earth" (2011)
Katy Payne, director of the Elephant Listening Project (2010)